Following the pandemic disruption that has affected us all over the last 20+ months, there is hope that next year will better resemble 'normality' - not least for those studying across the world.
Data collected by UNiDAYS, the leading student affinity network, from a study of 3,144 students across Australia, USA and the UK, explores the views of students heading into the new year.
From their attitudes towards the return to studying, to their hopes and fears for the year ahead, the responses give us valuable insight into the Gen Z psyche for 2022.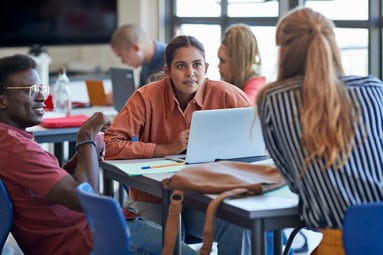 How do students feel about returning to their studies?
When asked how they felt about returning to their studies in 2022, almost half of students said they felt "optimistic" (47%), followed by "excited" (43%). This was followed however by less positive responses, with 43% and 42% respectively saying they felt "anxious" and "nervous".
This showcases that there is still a level of uncertainty among students about the year ahead. Only 9% of students admitted to feeling "relieved" at the prospect of returning to their studies.
When looking at country-comparisons, it seems that students in Australia (47%) and USA (45%) are a little more "excited" about returning to their studies next year than their UK counterparts (40%), with UK respondents most likely to say they were "happy" to be returning (31% vs 29% and 25%.)
Digging a little deeper, we can see that almost half of American responders (48%) are "anxious" about going back, followed closely by 45% of Australian students, and 37% of British ones.
The breakdown shows there isn't much variance in views across the three countries polled - implying that the struggles and successes faced by students are universal across all three nations, and not unique to one alone. Despite the challenges presented, it is pleasing to see that negative sentiment appears to have declined for UK students generally in the past year.
While the percentage of students polled that are feeling "nervous" has risen marginally (from 38% to 39%), the percentage of those feeling "anxious" has dropped from almost half (46%) in January 2021 to over a third (37%) in December. Likewise, those feeling "apprehensive" has declined from over a third (36%) to less than a quarter (23%), and "overwhelmed" has fallen from 40% to 32%.
Looking ahead – excitement for the year to come
When students were asked to rank the top three experiences that they were most looking forward to in the new year, "earning more/saving money" was the most popular answer (25%).
This comfortably outranked "travelling/going on holiday" (16%), which was closely followed by "socialising/going out with friends" (15%).
Interestingly, "festivals and gigs" and "sporting events" – two experiences perhaps most commonly associated with youth – were the least popular, with only 4% and 2% respectively choosing them. Sporting events in particular were at the bottom of the priority list for responders from all three nations.

This hints towards a shift in student priorities post-pandemic, with career progression and prospects ranking highly among the experiences they are most excited for.
Breaking these responses down by nation, we can see students from the USA and the UK are most looking forward to "earning more/saving money", with over a quarter of American students (28%) and over a fifth of British students (21%) opting for this.

Australian responders however were most looking forward to "travelling/going on holiday", with one in five (21%) expressing this as their top choice.
What's driving concern in 2022?
Heading into 2022, concerns over Covid-19 and mental health remain the biggest worries for all the students surveyed. Almost one quarter of responders (23%), admitted that the pandemic was their main concern ahead of the New Year, closely followed by "mental health and well-being" (22%).
Wider societal issues, such as "gender discrimination", ranked far lower, with 1% of responders listing the issue as their top concern.
The concerns regarding Covid and mental health are reflected across countries. In both Australia and the UK, one in four of those surveyed highlighted "Covid-19" as their biggest worry, hinting that despite lockdowns lifting and a widespread vaccine roll-out, the new Omicron wave has perhaps left many with a sense of déjà vu.
Meanwhile in America "mental health and well-being" was chosen as the top concern for almost a quarter of US students (24%). This aligns with the views in Australia (22%) and the UK (20%), showing that mental health concerns, perhaps as a result of the impact of the pandemic, are at the forefront of the minds of many students and young people moving into 2022.
Alex Gallagher, Chief Strategy Officer at UNiDAYS says: "While the study shows that students are exhibiting mixed feelings towards the return to their studies in 2022, it's clear that there is an element of excitement among Gen Z about the prospect of work and travel in the year ahead.
With this in mind, there's a clear opportunity for brands to cater to these shifting trends and Gen Z needs. Offering the right support on the right channels will help brands drive greater loyalty and affinity with the growing student population."