Happy Pride Month! Wondering how your brand can celebrate Pride in a thoughtful and meaningful way? Let's explore how some Gen Z faves are authentically showing their Pride to the world.
When it comes to showing your support for the LGBTQ+ community during Pride month, Gen Z'ers are looking for a little more than a rainbow flag profile pic. They're looking for brands that are particularly attuned to the things that matter to them. Brands that put their money where their mouth is and celebrate Pride month with collections, campaigns, and more are what Gen Z'ers will remember.

How some fashion brands celebrate Pride
Baja East and Torrid are just two examples of the many (many) brands that have brought out exclusive collections for Pride month and have pledged to donate a percentage of those proceeds to LGBTQ+ charities—which is extremely important. Brands who try to capitalize on marginalized communities have often felt their wrath in return.
Gen Z favorite brands like Target, Dr. Martens, and Reebok have pledged large sums of money to LGBTQ+ charities such as The Trevor Project, GLSEN, and GLAAD. Other fashion brands that are leading the charge during Pride Month include ASOS—who have hired the charity Stonewall to help ASOS become more inclusive internally—plus Puma, Levi's, Nike, and Converse.
Fashion brands, take note. Brands that take a genuine stance on Pride Month are setting trends both on and off the runway.
2020 calls for virtual Pride celebrations
HBO: "Human by Orientation"
Not even 2020 can stop Pride from happening.
By rethinking their acronym, HBO have created a unique virtual space to celebrate the LBGTQ+ community. Their new website will play host to a whole range of daily, free virtual Pride events, from DJ sets to a drag brunch hosted by the cast of HBO's We're Here. While some of pop culture's most iconic LGBTQ+ voices, such as Janelle Monáe, Todrick Hall, Cameron Esposito, Kim Petras, will also feature. The perfect remedy to the trials and tribulations of 2020 so far.
HBO's Human by Orientation is described as "a safe space for the LGBTQIA+ community and allies to gather, recharge, and spread joy—celebrating their queerest, proudest selves," even highlighting that "Pride originated as a protest, led by trans women of color, fighting for all LGBTQIA+ people." A statement made even more poignant by the Black Lives Matter protests going on around the world.
YouTube
To celebrate Pride Month, YouTube have launched a promo video that encourages everyone to be proud of their love. Meanwhile, over the weekend of 28th-30th June (the same weekend as Pride parades all over the world were supposed to happen) the YouTube Spotlight Page will feature LGBTQ+ programming in several varieties, all of which were highlighted in the promo video. Another great way to celebrate without physically attending parades.
Brands should remain vocal all year round
Gen Z's favorite brands are vocal about social issues all year round—but they ramp it up when the time is right (like right now). For example, in June 2019, organizers of a 'Straight Pride Parade' in Boston tweeted about their interest in having some big brands participate. AXE was quick to put them in their place.
Having a voice all year round is going to make a world of difference when it comes to a brand's popularity within the LGBTQ+ community. After all, LGBTQ+ isn't just for Pride month, it's all year round.
Is your brand relevant?
The likely answer to 'Is your brand relevant?' is going to be 'no, probably not' but that shouldn't stop you from showing solidarity with the LGBTQ+ community. Just remember, before going ahead and bringing out products with new packaging, have a think about whether or not this is the right thing to do or whether it's simply a marketing activity for your brand—cuz if it is, be ready to hear about it. We all know what happened last year with Listerine.

Sometimes it's okay to simply donate to an LGBTQ+ charity that's important to your brand.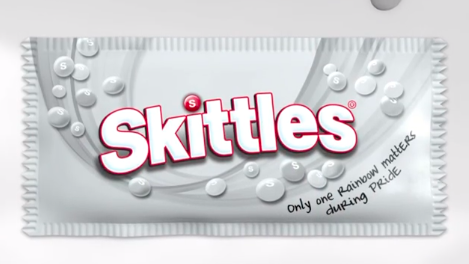 We'll close with an example from Skittles, who have expertly approached Pride by temporarily white-washing their own branding. With their 'only one rainbow matters during Pride' campaign, their limited-edition bags of colorless Skittles will be available throughout June, and importantly, $1 from every "Pride Pack" will be donated to GLAAD, up to $100,000.