Even before the days of global pandemics, Gen Z expected brands to act responsibly and do good. Now, as the world grapples with COVID-19, many brands are stepping up with messages of solidarity and support.
Is this Gen Z's defining moment?
September 11th, the 2008 recession, and the Internet boom were generation-defining moments that belong to MIllennials. Now, Gen Z has a defining moment of their own: a global pandemic.
COVID-19 is changing life as we all know and experience it. Gen Z is already known for their high standards for corporate and social ethics, fairness and responsibility. And now, in the face of crisis, Gen Z's expectations for brands to do good have only increased.
And what a challenging time this is for brands as well, with countless unknowns and the need to adapt to entirely new ways of working. So while it's certainly not business as usual right now—especially when it comes to marketing messages and ad campaigns—brands also shouldn't go dark.
Thankfully, many brands have reacted quickly with messages of support and guidance targeted to their Gen Z audiences. Here are a few examples of brands that are expertly balancing engagement with their audience while also being sensitive to the current environment and challenges.
8 brands that have handled COVID-19 with grace
Calm. From soothing and sleep meditations, calm music, masterclasses, to a deep list of mindfulness resources and practices to help people find ease, the meditation app, Calm, has made a ton of their premium content free. They're aiming to help anyone who is trying to practice 'mental and emotional wellness at this time.'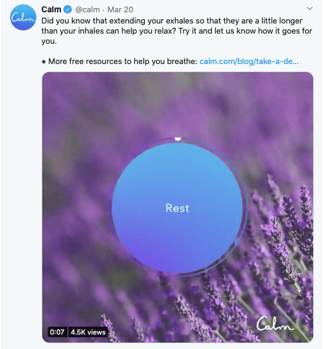 Headspace. Another popular meditation app, Headspace, is also stepping up to help, as they put it with, 'Weathering the Storm: Helping the World Curb Rising Stress and Anxiety with COVID-19." Like Calm, Headspace offers a generous amount of free content, to all users, including meditations, sleep, and movement exercises; along with curated collections of resources for work and educators. Headspace is also providing free premium subscriptions to U.S. healthcare workers now through the end of 2020.

Burger King France acknowledged life in the times 'de la quarantine' with a tweet that shows hungry Zers how to make a Whopper at home, covering the journey from bottom bun, onions, condiments, beef, lettuce and tomato to top bun. The brand also tweeted a short video demonstrating the process.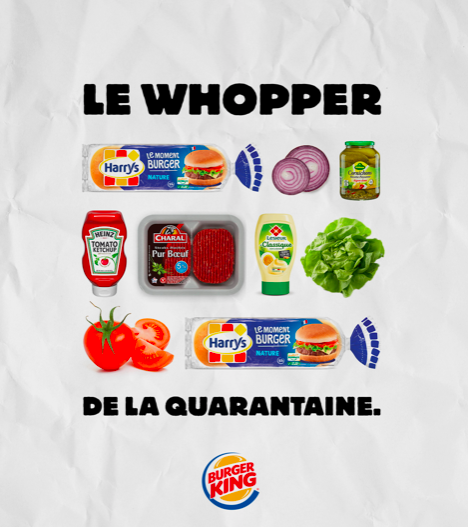 Adidas. #HomeTeam is Adidas' new initiative to keep 'hearts, bodies and minds healthy.' Now that fitness centers are closed, the brand is offering free premium access to their training and running apps, both of which are available in 15 languages and provide nutrition plans and workouts users can do at home. A social media campaign features athletes sharing what they're doing to stay safe and sane.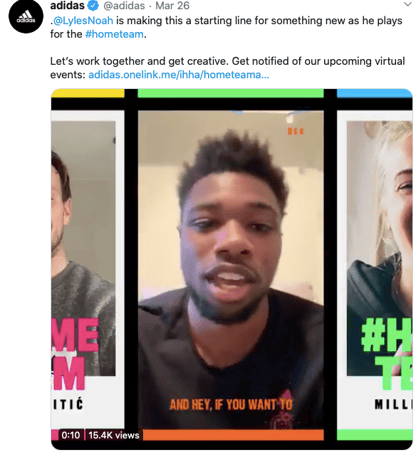 Nike. This iconic brand is encouraging social distancing using two hashtags — #playinside #playfortheworld — along with a powerful message. Without even mentioning the coronavirus, Nike gets their message of connectedness and teamwork across. They've also made their training app—Nike Training Club—free for anyone, to help users 'play inside, no matter where you are.' With more than 185 workouts available on the app, ranging from yoga classes to targeted training programs, that shouldn't be a problem. It's also worth noting that Nike has donated more than $15 million in response to the pandemic here in the U.S.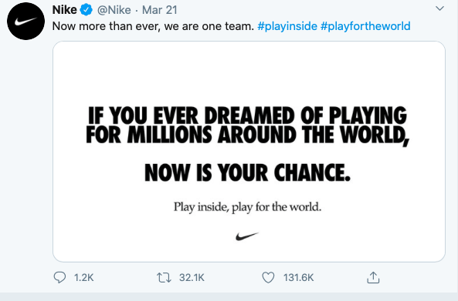 Billie. Known for their fuss-free razors and shaving supplies, Billie is donating $100,000 to local food banks across the U.S. that are working to serve the immediate needs of people affected by COVID-19.
H&M. Fashion brand H&M is pivoting to use their vast supply chain to produce personal protective equipment for healthcare workers on the frontline of the virus. The company's foundation also donated a half million dollars to the World Health Organization to help stop the spread of the virus. They're also letting global aid organizations use the company's social media channels and reach to spread messages about public health and safety in the face of COVID-19.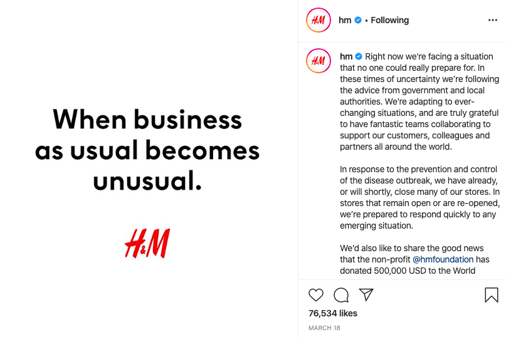 Soludos. Soho-based footwear and clothing brand Soludos is donating 10% of their net sales on specific shopping days to the nonprofit No Kid Hungry to help get food to children who no longer have access to the school meals they depended on. Soludos is also supporting healthcare workers with a $5,000 donation to Flexport, a service that ships medical supplies to healthcare workers.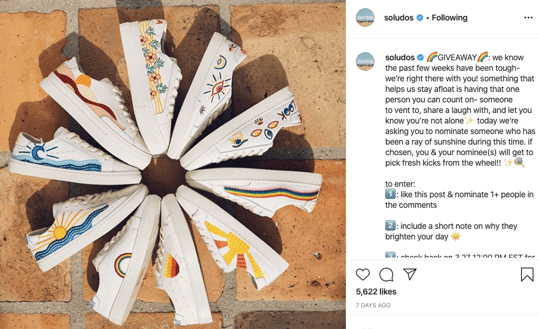 When we're alone, together
The lists and examples of brands doing their part to offer support to Gen Z (and all of us) grows daily. And as we all—individuals, companies, and businesses of all sectors and sizes—struggle to cope, and stay healthy and viable, Gen Z will certainly remember who, in the wake of their generation's defining moment, made efforts to help them and others.