Say what you will about astrology. Some live by it; others think it's merely fiction. Whether you're a diehard believer, a hobbyist or just a check-it-on-your-birthday person, you probably know that astrology is a huge market. And Gen Z is eating it up.
In the US alone, the 'mystical services market' (think: astrology and crystals) is estimated to be worth $2.1 billion, and the online astrology market itself is valued at $200 million. With figures like that, to say that 'astrology is having a moment', is putting it lightly.
Why astrology, and why now? It's not the latest fad or tech innovation, in fact, it's not new at all. Astrology has been with us since at least the 2nd century BC, when cultures including the Hindus, Chinese and Mayans developed elaborate systems to predict what might happen in their lives based on what was happening in the skies.
Eons later, people continue to look to the heavens to help inform and guide them. And, while it's not a shiny new thing, astrology certainly seems to have caught the attention of Gen Z. According to a recent report by Fullscreen, mystical-driven culture is actually on the rise among 18-34-year-olds. Gen Zers tend to check their astrological reports regularly, plus:
43% would make a big life decision based on a horoscope/tarot card reading
Over a quarter said, "horoscopes and astrology influence my purchasing decisions"
1 out of 3 agree, "In this time of instability in the world, I turn to astrology to make sense of things"
This isn't surprising. For a generation struggling to make sense of a politically and socially polarized world, astrology offers Zers a natural route for navigating uncertain times. It also affords a system to help better understand themselves, others, and in turn, the world. All things Gen Z very much believes in.
A sign of the times
In an age of customized skincare, makeup, and fashion, Gen Z is all about personalization. Even if they don't plan their days or make big decisions by the stars, this generation embraces it nonetheless. Gen Zer Madison explains why she turns to astrology: "It's nice to believe that your personality is deeper and more meaningful than it appears at first glance."
And there are plenty of opportunities to dig deeper. Websites and apps devoted to astrology mushroom on the daily. Astrology memes make it fun to dive into the twists and turns of everyday life. (Note: notallgeminis is particularly amusing, and probably one of the more popular tongue-in-cheek but simultaneously quite serious astrology meme accounts on Instagram.)
Websites like cafeastrology and countless astrology apps—two well-known ones are Co-Star and Sanctuary—make it easy for the Z user to learn about their sun signs and natal charts in one place, simply by plugging in their exact time and place of birth. This way, anyone can find out—on the spot—what energetic influences were at play at their times of birth, and as a result, what life lessons they should expect.
These predictions help make sense of one's life and other people. As Zer Manny says, "Astrology is especially helpful when I have feelings for someone. Knowing their sign gives me a better understanding of them – especially about things they may not yet feel comfortable sharing."
Brands are betting on the stars
Given Gen Z's interest in these mystical means of guidance, brands have started tailoring their marketing messages around astrology. Here are a few examples:
Earlier this year, Spotify collaborated with astrologer Chani Nicholas and rolled out 12 playlists, each featuring a set of songs based on the signs of the zodiac.
In September, in conjunction with Parcast, Spotify launched 'Horoscope Today,' a daily podcast that offers roughly 180-seconds worth of "guidance for life, love and career." Interesting side note: Brands sponsor each podcast episode. For instance, Swarovski sponsored the Sept. 17 episode.
Who knew, but there's also a horoscope for feet. New Balance takes their shot at the astrology angle with an email campaign focused on the best sneaker for every sign.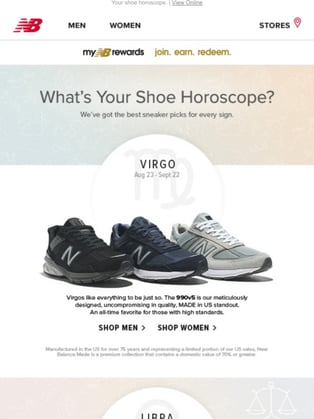 source: Milled.com
Whether it's the Northeast Adirondack, the southward bound Palmetto, or the west-coast Starlight, long-time train operator Amtrak has 12 long-distance trip suggestions based on the zodiac.
Not sure how your brand could position its product or service around astrology? Get creative. Refinery 29 did it...for clothes hangers.
Mercury's in retrograde, and that means cosmetics brand Tarte is directing all Virgos not to let their 'hot girl summer go to waste.' While on the site, shoppers can check out their monthly Beautyscope for corresponding beauty picks, and pick up a mascara with a limited edition zodiac charm.
All signs point to astrology-themed marketing
So whether your Gen Z consumers won't make a move without first consulting their chart, or if it's just a fun way to learn about themselves and the day ahead, brands should embrace the skies. It's all but written in the stars that Gen Z will pay attention to it.