To Gen Zers, Oreo is not just another cookie. The brand has always taken great care to listen to its fans, helping the sweet treat embody the same values that make Generation Z so unique.
Ah, the Oreo cookie. Those luscious chocolate wafers and cream filling have sustained Americans for over a century, to the tune of over 362 billion sold since its inception in 1912. The story of Oreo isn't just about one snack's longevity, but its ability to adapt with the times and maintain its foothold on our palates across generations.
How has this titan of all cookies kept its branding fresh and developed a rabid Gen Z following?
Oreo: a youth marketing renaissance
Oreo hasn't always been cool. But in recent years, It has gone from a stodgy, old-school cookie to a youth-centric, culturally prolific brand.
The rebirth started in 2012 with Daily Twist, an epic, 100-day, social media campaign in celebration of the iconic cookie's 100th birthday. Every day the cookie appeared in situations that marked the era's cultural milestones, such as the Mars rover landing, shin shin panda, Elvis week, and—its first and biggest—an impossibly tall, six-layered rainbow Oreo in celebration of Pride month.
Then Oreo released the Twist, Lick, Dunk mobile app, in which users got to simulate the cookie experience and also win or buy virtual money to purchase new flavors. The game performed incredibly well—it reached the number one spot in more than 15 countries, won its parent company a handful of media awards, and even made money.
But Oreo's crowning achievement in marketing to Gen Z was a fortuitous event that the brand capitalized on—Super Bowl XLVII in 2013. When the power went out in the middle of a heated battle between the Baltimore Ravens and San Francisco 49ers, Oreo put out a spot-on tweet that got the viewing audience buzzing about the brand during the 34-minute blackout.
A flavor for all seasons
Since then, Oreo has made a habit of listening to its fans and rolled with the times to cultivate deep loyalty. Its willingness to experiment has led to a crowdsourced R&D process that allows the company to experiment with new varieties submitted by and voted on by fans through its #MyOREOCreation contest—and to adopt those that catch fire. This allows Gen Zers to feel a sense of ownership in them, while still maintaining the stalwart original product that keeps older generations happy.
The company teases such new releases on social media without much up-front fanfare, but just enough buzz to spread organically (and attract media attention). The 50th anniversary of the Apollo 11 moon landing got a Marshmallow Moon cookie, and Baskin Robbins and Good Humor have partnered on ice cream-inspired versions.
Oreo brings Gen Z to these and other flavors through a combination of savvy partnerships and social media know-how.
Music
One sure way to Gen Zs' hearts (and stomachs) is through music. In Christmas of 2018, Oreo capitalized on Zers' penchant for quirky music collabs and old-school nostalgia a record player that eschewed vinyl for a tastier sound source. The Oreo Music Box generated music from the cookies themselves, and the songs changed whenever you bit the cookie (and changed its shape). Oreo followed it up with the DJ Mixer, a set of three turntables generating over 200 music combinations, all determined by the amount of cookie remaining.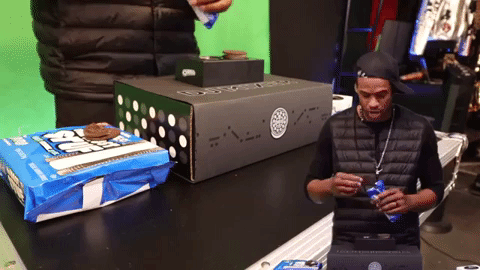 Source: EDM Movement
The following February, Oreo teamed up with 10-time Grammy-nominated rapper Wiz Khalifa on the song "Stay Playful," produced exclusively for the company. It aired at the Grammy Awards and thereafter was only available through its turntables.
Social media
Playing into Gen Z's taste for ephemeral marketing, Oreo let them turn themselves into cookies using a Snapcode that appeared on 134 million packs in Europe. As part of the "Oreo people: show your playful side" campaign, users opened Snapchat, scanned the code, and were treated to this unique experience through the power of augmented reality (AR) lenses and digital "Oreoji" stickers. Experiences like this appeal to Gen Z far more than traditional TV spots or even campaigns on social rivals Facebook and Twitter.
TV
Like any self-respecting youth cohort, Gen Zs have a fondness for all things pop culture. The HBO series Game of Thrones happens to be a favorite. In a genius collaboration with the hit show, Oreo released a limited run of branded cookies featuring the crests of House Lannister, House Targaryen, House Stark, and the Night King.
And if that wasn't enough, Oreo hired the firm that produced the show's opening credits to create a nearly identical version that used 2,750 stacking Oreos standing in for the map of Westeros and Essos.
Source: Oreo Cookie
Gen Z snacking success
One of the world's simplest cookies has tapped into the simplest of marketing maxims—listen to your customers. In doing so, it has created a new legacy of seemingly endless flavor innovations and unique collaborations with which to promote them. It also doesn't hurt that the cookies are delicious.