When you've got eight seconds to catch the eye of Gen Z, forget everything you were ever told about "using your words". Instead, use your emojis.
Emojis might be tiny, but they can be powerful tools for capturing Gen Z's attention. And in an already crowded digital marketplace, when you've got only seconds to get their eyeballs on your marketing message, every little boost counts.
A new report by Adobe for World Emoji Day (July 17, in case you missed it), indicates that 83% of Gen Zs are more comfortable expressing their emotions through emojis than through a phone call.
This might be surprising at first glance, but when you consider that Gen Z are digital natives—meaning they've never known a world without the internet and, of course, social media—this reliance on tiny images to express big emotions makes sense.
Interesting fact: Do you know why July 17 is World Emoji Day? Because... 📅.
But first, a quick emoji primer
1. When was the first emoji created?
Emojis first emerged in 1999, when Shigetaka Kurita, a Japanese interface designer, created 180 of them for use on cell phones.
2. Where do emojis come from?
In 2010, the U.S. non-profit Unicode Consortium allowed the first set of 625 emojis into the Unicode Standard, making the little pictures a recognized language. Soon after, Apple and Android added emoji keyboards to their phones and emjoi use began to skyrocket.
To create an officially recognized emoji, you have to submit a proposal to the Consortium explaining why the world needs your small picture and how it might look. The Consortium meets weekly, but it can still take up to two years for an emoji to officially show up in a keyboard—or be denied.
3. Do emojis look the same across providers?
Yes and no. Emojis are encoded uniformly across different platforms, but styles may differ between providers. For example, 'laughing face with tears of joy,' (which, incidentally, is the most popular emoji) may look like this on an iPhone but on an Android, it will look like .
4. How many emoji are there?
In 2019, the Consortium released 230 new emojis including the mechanical arm, hearing aid, waffle, maté, white heart, butter and wheelchair, for a current total of 3,019 recognized emojis.
If you want to go real deep, real quick, visit http://emojitracker.com to see emoji use on Twitter in real-time.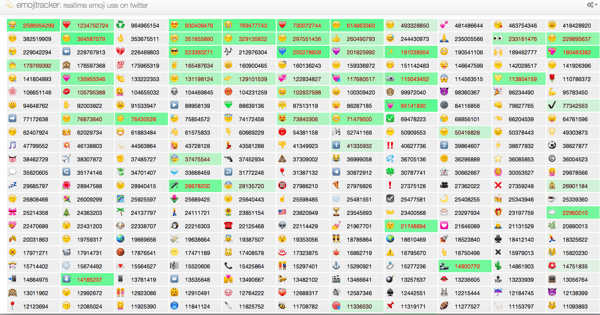 Snapshot in time: Emoji use on Twitter as of 5:06:56 EST September 30, 2019
Gen Z and emojis
From email to Instagram, and Facebook to Twitter, emojis are present in all forms of digital communication. In fact, Facebook estimates that more than 700 million emojis are used every day in posts on their platform; on Facebook Messenger alone, more than 900 million emojis without text are sent daily.
Among Gen Z only, Adobe found that:
58% believe emojis best express their emotions (compared to 48% of Millennials).
39% of the time, Zers use emojis exclusively when texting.
It's clear that, although Gen Zs don't all speak the same language, it seems like a good deal of Gen Z speaks 'emoji'—and in some cases, they prefer it that way.
A couple reasons why brands should use emojis
1. Using emojis makes your brand seem less corporate and more human and personable. Gen Z wants to do business with brands they can relate to. Are you 📣 announcing a new ♻️ sustainability initiative or a capsule collection from a hot new designer based in 🇲🇰 Macedonia? Say so with an emoji.
2. In tweets, emojis can increase engagement by 25.4 percent. Consider: "This taco is good." vs. "This taco is good!" vs. "This 🌮 is 🔥" While you don't want to force or overdo it and use too many emojis, judicious use can certainly help pique the interest of Gen Z.
How brands can use emojis
1. On the appropriate platform.
For brands wanting to try their hand at using emojis in marketing, pay close attention to distinctions unique to Zers.
For example, Adobe found that Gen Z will more likely use emojis on Snapchat (59%) and Instagram (52%) while in comparison, only half as many Millennials would (28% and 24%, respectively). In other words, it pays to know your audience, their communication preferences, and their habits.
2. Correctly.
If you're unsure of an emoji's meaning (💪 is Festivus!), look it up before using it!
3. As a means to engage.
Over half (58%) of Adobe survey respondents said they are more likely to open an email from a brand that uses an emoji in the subject line. Nearly half (44%) of emoji users said they are more likely to purchase products advertised using emojis.
4. To buy things.
Of those same people, 64% said they would make a purchase with an emoji, most likely purchasing meals (19%), movie tickets (15%) and clothing (13%). (Did you know you can actually order a pizza from Domino's simply by texting them with, you guessed it, 🍕.)
You should probably second that emoji
Since the beginning of time, we've been adding symbols to our words – take a look inside a cave for some prehistoric emoji. And why not? They help us add additional weight and urgency to what we're trying to communicate when words alone don't quite get the point across.
When it comes to marketing, and specifically to Gen Z, emojis are simply too popular to ignore.