UNiDAYS have shown how brands can change their menu, deals and ingredients to appeal to Gen Z to get them through the doors and spend their money.
Restaurants are unlocked post-COVID and here's why they need to entice Gen Z customers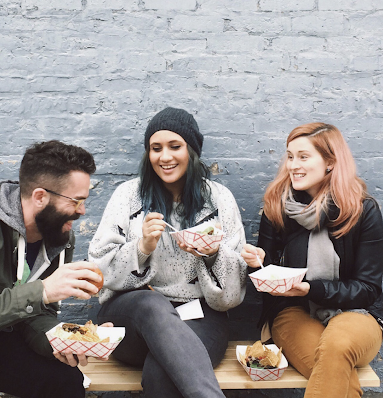 A survey of 4,200 students by UNiDAYS, the world's largest student discount app, looked into their attitudes towards eating and wellbeing, the majority (51%) are up for dining out spontaneously. This comes as little surprise following stringent social distancing rules as a result of the pandemic and restaurants cannot afford to ignore this as they reopen their doors.
In addition, 78% of those students surveyed spend the majority of their cash on food, after they have covered tuition and bills - great news for the beleaguered hospitality industry.
Gen Z are already the largest group of consumers globally (bigger than Millennials), and students have an annual estimated global spend power of $200bn and an indirect parental spend power of $3 trillion.
Josh Rathour, CEO of UNiDAYS, says:
"This vast group of young consumers have grown up using multiple devices and on multiple social media platforms. They are tech literate, hyper connected and marketing savvy. A brand perceived as inauthentic or not in line with their personal brand values will pay the price on social media, Gen Z have the power to decide which brands succeed and which fail. Given their influence and spending power, hospitality would be wise to put students at the core of their recovery business model."
Discounts matter to this demographic
Not every brand expects Gen Z to be a profitable consumer, as many students are still finding their feet with their finances. However, they are indeed willing to spend, if the offer is tempting.
93% of Gen Z are drawn towards restaurants which have deals to be taken advantage of. 78% of students use discounts in the 48% of local restaurants which offer them. The survey also revealed that 91% are happy to eat at off-peak times, if it means they can save money.
Curb appeal is important
Gen Z must be engaged both online and in the real-world, 41% saying that they usually discover new menu items inside of the restaurant. This means that capturing their interest in order to get them through the doors in the first place is key.
Displaying Instagrammable messages on customisable chalkboards outside restaurants provides a popular way to catch the attention of potential customers, who can then share those musings online, in turn spreading the word.
Eight seconds is the usual attention span for Gen Z, compared to a Millennial's 12 second, so messages should be simple and direct.
Capitalising on Gen Z's approach to healthy eating
While Millennials may once have led the charge when it came to movements such as clean eating and sharing Instagrammable fitness regimes, it is the turn of Gen Z to make their mark on the wellness sphere. Now, a vegan lifestyle and aesthetically pleasing self-care routines are swiftly taking over social media feeds and this is something brands need to pay attention to.
Our findings showed that what brands are doing to include people who have a more restrictive diet is fast becoming a key deciding factor for if they are willing to share their business with them. The majority of students (79%) said healthy ingredients are important, a menu revamp providing a good way to entice Gen Z customers.
For example, going vegan is a popular choice for Gen Z, but 63% still want to see protein rich products on menus. In addition, 58% of the students said that organic food is important to them, which is also something to keep in mind.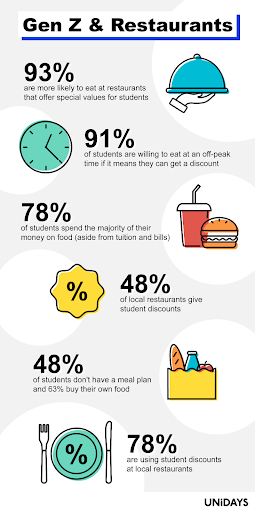 To conclude
Our survey shows that the future is bright and that restaurants and bars can get ready for the inevitable Gen Z influx by putting the deals and discounts in place which will draw them in and they will then tell all their friends about it.
After all, it really is the case that few people can say no to a good meal deal and Gen Z's love a bargain. At UNiDAYS, we aim to help students who are keen to eat out while helping the hospitality industry get back on track after a turbulent 18 months.