Unexpected brand partnerships with popular figures among Gen Z are on the rise. Take a look at three winning examples that caught their eye and brought everyone a little bit of much-needed joy.
You wouldn't expect to see a deceased person promoting a soft drink (see below) but hey, no one probably expected a Taco Bell hotel, either. These days, it seems like there's a non-stop stream of influencers—whether it's a mega-celebrity, musician, micro-influencer, or athlete—joining forces with brands in an effort to appeal to Gen Z.
A tried-and-true marketing tactic, collaborations among brands and influencers are on the rise. According to Klear's State of Marketing Influencer Report 2021, sponsored stories increased 32% in 2020. Specifically, in 2020, influencers created 38.1 sponsored stories a week, in 2019 they created 28.8. Klear also reported that influencer collaborations had 57% more reach and impact in 2020 with sponsored posts receiving an average of 7,806 impressions (unique views) compared to in 2019, when sponsored posts averaged 4,827 impressions.
With Covid-19 making it harder for Gen Z to interact with friends in person, they're relying on social media and digital platforms for communication and connection now more than ever. With the right alignment of brand and influencer, marketers can help cultivate a relationship with Gen Z that while virtual, is authentic and valuable.
Here are some of the most compelling brand collaborations of late.
1. Travis Scott and McDonalds
Basketball great Michael Jordan was the first (and last) celebrity featured on a McDonald's menu in–get this, 30 years. In fall 2020, rapper Travis Scott became the next. In partnership with Scott's record label, Cactus Jack, the fast-food giant created the "Travis Scott Meal," inspired by the rapper's favorite order: a Quarter Pounder with cheese, bacon and lettuce; fries for dunking in BBQ sauce and a Sprite. The collaboration hardly ended there.

Along with a commercial starring an animated Travis Scott action figure, there was also a massive co-branded merch drop that included a full-size nugget body pillow (originally priced at $90, it's now available at resell sites for more than $500), house slippers with French-fry laces, a lunch box, life-size cardboard cutout of the rapper, Cactus Jack Breakfast Boxers, an All-American jersey and more–ALL of which instantly sold out. The partnership didn't benefit just Scott. The Wall Street Journal reported that McDonald's third-quarter sales increased by 4.6%.

Downloads of McDonald's app were also up as a result of the collaboration. The WSJ reported that due to an in-app only promotion for a discounted Travis Scott meal in mid-September, downloads of the fast-food restaurant's app increased 20%, compared with twoweeks earlier, according to App Annie, a third-party analytics firm.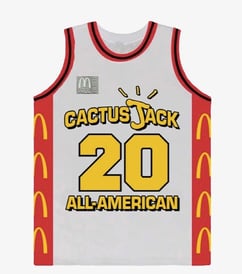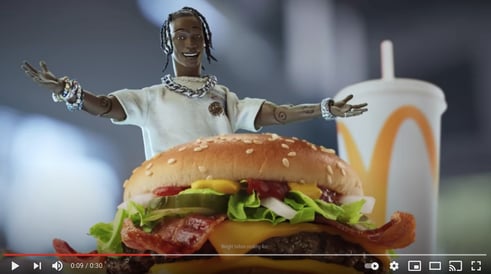 2.Bob Ross and Mt. Dew
Here we have a super unusual, maybe a tad creepy, and very creative influencer campaign from the folks at Mt. Dew and the estate of Bob Ross. Yes, that Bob Ross, the beloved (and also deceased) artist who hosted PBS' Joy of Painting from 1983-1994.
During the 42-minute "lost episode," a deep-fake Ross narrates in his typical soothing manner as he paints a classic winter scene. Mt. Dew's creative agency TBWA\Chiat\Day New York used a body double (an actual artist The Bob Ross Company approved), a wig and prosthetics, and a bit of CGI to pull off the mind trick. Toward the end of the spot as the landscape comes to life with his signature 'happy little trees,' in a new flex, fake Ross adds a large Mt. Dew bottle covered in 'happy little droplets of condensation.'
To create further hype and engagement around the spots' launch on YouTube, Mt. Dew also created limited-edition Bob Ross Paint Kits which include a small blank canvas, oil paints, brushes, travel easel and custom apron. Following the video's premiere, TikTok influencers distributed kits during a TikTok giveaway. For those that don't win but still want to paint along, the Mt. Dew site includes a list of Bob Ross materials to "paint a fantastic little winter scene with a MTN Dew in it." The campaign also includes a charitable element with the painting ultimately being auctioned off with proceeds going to a nonprofit. This campaign is weird and good. Just what Gen Z likes.
3. Gen Z themselves are a growing player in the influencer market
But it's not just celebrities of the scale and mass fondness of Scott and Ross that brands are relying on to connect with Z consumers. Brands are turning more to Gen Z themselves to increase brand awareness. The Klear survey found when comparing influencers creating #ad content in 2020 to #ad content in 2019, there was a 9% increase in Gen Z's market share. In 2019 Gen Z made up 31% of sponsored Instagram posts, and in 2020 Gen Z made up 34% of sponsored posts. Gen Z was the only demographic to grow in 2020.
Leah's Field Notes. This Gen Z content creator is also an artist, baker (of special note are her breadatorial designs), designer, and model. She's got a podcast, a TikTok presence, a YouTube channel with 426,000 followers, and a commerce shop. To her fans and followers, she's known for her creativity and weekly Friday vlogs that for the most part, have her traipsing around Montreal where she engages in 'adulting,' skincare routines, 'catfish transformations,' and learning foreign languages.

Enter brand collaborator Lingoda. Leah drops bilingual vlogs where she speaks only in a language she's learning with the help of Lingoda, an online language school. In this video that has more than 500,000 views, Leah speaks only in French and at the close, viewers see her conversing en Français with her Lingoda instructor. She wraps up with a special offer for viewers to join the three-month sprint and upon completion, have the cost refunded.


It's a natural and authentic pairing of influencer, content, brand and consumer. Again, just how Gen Z prefers it—real and trustworthy.
If your brand is ready to retool or start your journey working with Gen Z influencers, here are a few things to keep in mind.
Find the correct influencer to represent your brand. Influencers carry a lot of weight with Gen Z and can be a great way to acquire new customers. Brands should partner with influencers who bring authenticity and as an extension of your brand, can add value to conversations. However, partnering with someone who seems disingenuous or in it only for themselves won't curry any favor or fans with Gen Z. Message consistency among influencers (even if it's just one) is important to avoid confusing Gen Z shoppers.
For brands, representation is a must have. Gen Z expects companies to do more than make a statement, but to take action on all diversity and inclusion fronts, including among retail offerings (see the fifteen percent pledge). Ensuring representation among the influencers a brand works with is critical. Be sure yours does.
Let it ride. As mentioned above, be sure to give any influencers necessary information about brand values and messaging, but once you have deemed them trustworthy and capable, let them do their jobs. After all, Gen Z wants to be marketed to by real people who have authentic connections to the brands they represent. The brands that recognize this and cultivate genuine relationships with influencers will gain the loyalty of this coveted audience.
Influencers can help brands create and maintain mutually beneficial relationships, even friendships, with Gen Z consumers. As long as brands allow them room to be their authentic selves and use their unique voice.