Sustainability and being a conscious consumer are key concerns for Gen Z. If you want them to know your brand is on the same page, conduct a greenwashing gut check first.
What is greenwashing?
When it comes to sustainability, Gen Z is pretty black and white. There's the good work happening to keep the planet green, and then there's greenwashing. And it's rampant. A recent study from ICEPN, an international consumer protection group, found that 40% of companies making claims about being 'green' are misleading to consumers.
Greenwashing is everything Gen Z is not.
It uses marketing tactics and PR messaging to appear environmentally conscious but without the actions needed to actually make sustainable products or pursue ethical practices. In other words, it's smoke and mirrors and Gen Z is calling foul.
"Gen Z are savvy, cash conscious and politically and culturally aware. Brands must be warned against thinking that marketing campaigns for mere window dressing will have any resonance with this alpha consumer. Born in the late 1990s, they have an annual estimated global spend power of $200bn, but including their parental influence, an indirect spend of $3 trillion. First impressions will last." Josh Rathour, CEO UNiDAYS
Take Megan McSherry. She runs the blog ACTEEVISM and writes that, "My goal is to equip you with the knowledge and inspiration that YOU need to become an acteevist: to make small, meaningful changes to your everyday life that will positively impact both people and the planet." People are listening. On her TikTok account @acteevism, Megan has nearly 82,000 followers and 3.2 million likes. She frequently shares her sustainability regrets, wins and finds. She also speaks about greenwashing and shares examples of the practice and how to avoid it.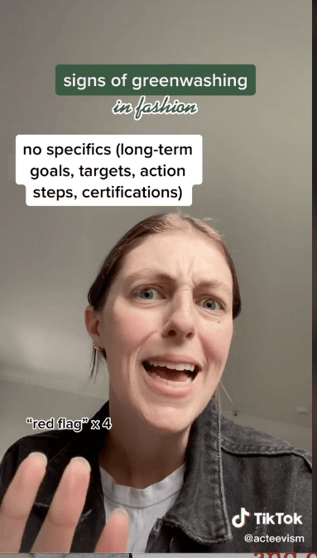 Megan is not unique. She is but one of thousands of content creators across countless social platforms who are passionate about being conscious consumers, or as she defines it, "Someone who thinks deeply about her purchasing decisions, sees her consumer dollars as a vote, and chooses to use her voice when she sees a need for change."
It's that last sentence that brands should pay attention to. Among generations, Gen Z has the most purchasing power at $143 billion. They know they are a desirable demographic. They also know that companies are aware that Gen Z is willing to spend more on products if it means helping the planet.
Common greenwashing red flags Gen Z looks for
Vagueness. 'Born in the US' is not the same as manufactured in the US. Saying a product or ingredient is all natural doesn't mean it's safe. Formaldehyde and arsenic are both natural; they're also poisonous.
Marketing speak. Resist language like, "We design with the planet in mind," or other language that's really just unclear. Examples? Think 'eco-conscious,' 'environmentally friendly,' 'eco-fabric,' 'green.' What do those really mean?
No citations. Claims like "100% natural, compostable, vegan, cruelty-free," are all great — if they're accurate. If you can claim something, definitely do but make sure to provide proof, otherwise you run the risk of appearing to intentionally mislead consumers.
Irrelevant. Using energy-efficient lighting is great for the environment, but in some countries, it's just the law — not an authentic action to improve a company's environmental footprint. This type of extraneous information is not helpful to Gen Z (or any consumer).
Claims without context.

Saying, for example, that a product or packaging uses 'less plastic' but without saying as opposed to what, or in comparison to what, lacks meaning. Where did the plastic come from? Is it post-consumer recycled? Be precise and there's no question or confusion.
What to consider when you're marketing sustainability to Gen Z
Take it easy with marketing a sustainability-focused message. This isn't to say don't talk about your environmentally and ethically sound practices — quite the opposite. State your organization's positions but support them with specific and clear actions you're taking to accomplish them.

Let Gen Z know how you are (or plan to) take responsibility for manufacturing, sourcing practices, transparency, ingredient choices, packaging and employee compensation. Last, engage with Gen Z about their expectations around sustainability.

If your brand is not fully where it wants to be on the sustainability front, acknowledge that — Gen Z will appreciate and value your honesty and authenticity.