Black Friday and Cyber Monday are upon us. Here's how a few of Gen Z's favorite brands are approaching the holiday deal season.
Black Friday and its second cousin, Cyber Monday are upon us. Gen Z remains the demographic with a whopping $143 billion spending power and as such, brands are doing everything they can to catch their attention. And since this is 2020—the year when most everything feels extra challenging—the digital marketplace is more saturated than ever. Brands are doing all they can to stand out and drive traffic to their retail sites, now that most Zers don't feel comfortable shopping in stores.
You can check recent UniDays study about Gen Z spending habits before and during COVID-19 for all the data, but in the meantime, here are some useful findings from that study that indicate Gen Z's shopping behavior this holiday season.
We asked Gen Z about their shopping plans for Black Friday and Cyber Monday 2020
57% will start holiday shopping during Black Friday and Cyber Monday
52% will shop online because it's safer
63% will browse online for gift inspiration
45% say discounts are the most important consideration for online shopping (39% are looking for free shipping)
Let's face it, Black Friday and Cyber Monday have kind of run together. For brands marketing to Zers, that means keeping your promotions in front of them 24/7 before and after the online shopping phenomenon that November has become. With that in mind, GenZ Insights took a look at some of the brands that are doing Black Friday and Cyber Monday right in 2020.
---
Inspired e-commerce: the anti-Black Friday
Deciem
Parent company of The Ordinary, the Canadian beauty and skincare brand, Deciem is boycotting Black Friday and completely shutting down its site and stores on November 27.
Wait, what?
The Black Friday boycott started in 2019 in an effort to encourage customers to 'shop slowly and consume smartly.' The brand offered 23% off every product for the entire month of November. This year they've brought it back and are calling it KNOWvember, offering that same month-long discount along with daily education, in the hopes, as their website states, 'to empower people with the time and information required to buy less, but better.'
Allbirds
In another odd flex, Allbirds isn't slashing prices or boycotting Black Friday, they're raising prices on November 27. The New Zealand-based footwear company will increase prices across their entire collection by $1 and will match every sale by $1, with the proceeds going directly to Fridays For Future, the youth-led climate movement founded by activist Greta Thunberg. The brand's IG feed is focused heavily on climate change and they're running ads on IGTV as well.

---
Making holiday shopping safe for Gen Z
Target
Back in July, Target announced that they would be handling the holidays differently this year and shared how they were making shopping simple, safe and stress-free. Here are a few things Target's been up to encourage Zers to do their holiday shopping with them both pre- and post-Black Friday:
---
The anticipation of a Black Friday deal
Nasty Gal
This brand likes to make their customers wait. The clothing retailer is (mostly) holding out for actual Black Friday and whether online, on IG or TikTok, the brand is urging Zers to share their email to avoid missing The Nasty Friday Event. The brand engages shoppers, teasing on their site of the possibility for pre-Black Friday deals. An IG contest tempts Gen Z with a chance to score $1,000 for a like on the brands IG feed.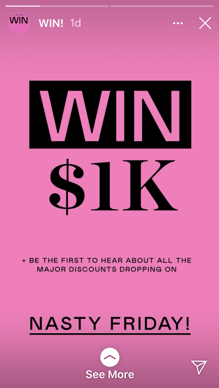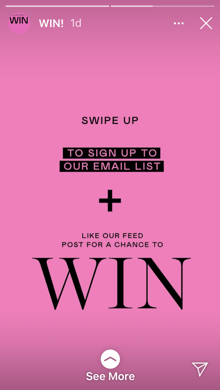 ---
Do it with meaning for Gen Z
For this year's Black Friday and Cyber Monday, whether it's all month or just the day; cheeky or helpful; safe or cause-driven, the brands that deliver a meaningful shopping experience should expect a non-2020 like result: success.