Maybe it's nostalgic self-care, but Bath and Body Works is popping up all over Gen Z social channels. Take a look at IG, and you'll find tons of love for the brand's candles. Here's why we think Bath and Body Works is killing it in the Gen Z space.
Bath and Body Works has so many fragrances, when you look at them all, in alphabetical order, only four letters aren't represented. (Hear us out Bath and Body Works, maybe 'Queen's Wishes' or 'Under the Tree?') With reassuring scents and comforting names like 'Welcome Home, The Perfect Autumn, and A Thousand Wishes,' it's no wonder the brand has become a sensory respite for Gen Z during the past eight months or so.
The store has been around for more than 20 years and during that time, has witnessed retail highs and lows. The popularity of the mall as a social destination, followed by the Internet and gradual demise of many mall stores. Yet through it all, Bath and Body Works has survived. In fact, in August, they reported second-quarter profits with sales climbing 13% to $1.97 billion during the same quarter.
Even with stores closing during lockdowns back in March, shoppers continued to buy candles, bath soaps, lotion, and you guessed it, hand sanitizers online from the retailer. Now that stores in many locations have reopened for in-person shopping, Zers are flocking to the store to get their olfactory fix.
Gen Z values fond memories and good smells
So why does Gen Z like to shop at Bath and Body Works?
Could be because they started shopping there in middle school. According to Gen Zer, Audrey, "I shopped at Bath and Body Works in middle school. I really loved their body sprays and I could afford them with my allowance." Now, as a Zer with a job and a car, she's grown back into the brand. "One of my friends in my Covid bubble had all these candles in her room, I asked her where she got them and was surprised when she said 'Bath and Body Works.' I had kind of forgotten about that store. Now I can't stop going. Everyone I know is getting a three-wick candle for Christmas this year."
"Everyone I know is getting a three-wick candle for Christmas this year." - Audrey, Gen Z UNiDAYS member
The stores have been a welcome diversion for some Zers during the pandemic.
While wearing a mask is a must, it can complicate some activities—eating, drinking and singing come to mind—but something masks don't impact? Smelling candles, at least not the ones at Bath and Body Works. Alexa, another Gen Zer, says that since her local Bath and Body Works store reopened, she goes in at least once a week just to smell the candles. "It's such a cozy place, like visiting a relative or friend's house I'd like to live in. When I go into the store, even though everyone is wearing a mask and socially distancing, I can forget about what's going on outside in the world for a while."
While we can't credit the brand's recent success solely to its mask-proof, highly scented formulas, it does speak to another reason why Bath and Body Works is a brand Gen Z loves—the vibe at their stores. Like Alexa. Without even realizing it, she is responding to the brand's strategy of creating a bright and homey, welcoming presence. Whether stand-alone in a shopping center or inside a mall, the locations might feature cheerful, gingham backdrops or striped awnings and lights reminiscent of a quaint yet tony neighborhood boutique. Once inside, Z shoppers are greeted with smiling clerks in shopkeepers' aprons, and artfully arranged items presented by type, fragrance and price point. It's accessible and affordable without looking or feeling mass produced.
Cost-conscious Zers also appreciate the ability to try before they buy.
Each store is equipped with a sink so shoppers can actually experience in the store how the top-selling Champagne Toast or Lavender Vanilla lotion, shower scrub and body spray might smell on them, at home. There is also a generous and pretty straightforward return policy. According to the Bath and Body Works site, "We just want you to love it! Return anything, anytime for any reason. 100% Guaranteed."
Can't make it into a store?
The brand has made for it easy for Gen Z shoppers to find a scent, even from afar, using the online "Fragrance Finder." They've taken all their scents and sorted them by six categories. Like floral scents? Click on that and shoppers will see 168 products that map to that fragrance profile.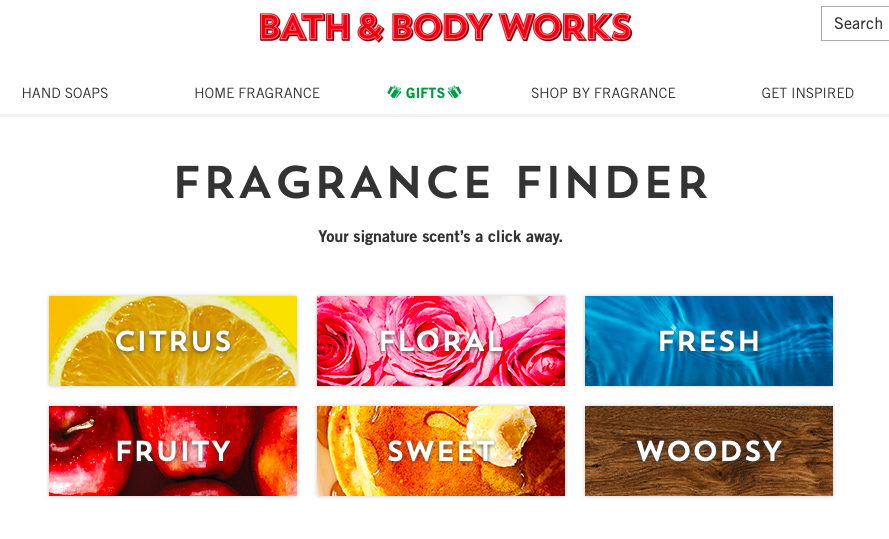 Finally, there's always a good deal at Bath and Body Works. There's even a link in the top nav of the brand's site directing to 'Top Offers" where any number of deals can be found, ranging from $10 off to buy three, get two free specials.
Marketing to Gen Z the Bath and Body Works Way
The reasons Bath and Body Works is a brand Gen Z loves is more than the hundreds and hundreds of scents. It's an experience, both online and in person, that evokes a feeling of nostalgia (whether that's for the good old days of middle school) or comfort for the times ahead.