Whether it's the heat their PERi-PERi peppers bring or their joyful brand, Gen Z is flocking to fast-casual chain Nando's in droves.
Gen Z and Nando's: First, they ate there; now, they're working there, and next, they'll be bringing their families to dine there. Ever since the South African-based and 'chickenly' popular Portuguese chicken restaurant opened its first North America location in 2008, Gen Z has been flocking to the quick service restaurant.
Beloved the world over (currently, there are more than 1,200 Nando's spread across five continents), Nando's is even part of the current lexicon. Across the pond, you're likely to hear British Gen Zers heading out for a "cheeky Nando's" (popping into the restaurant for a quick bite with their "mates" after enjoying a pint or two).
Nando's is known for a few things, not least of all their iconic PERi-PERi sauce, the red African Bird's Eye Chili pepper concoction and the key to their famous, flame-grilled PERi-PERi chicken. The sauce comes in various degrees of heat—from Plainish to Medium ("Hits the spot without scalding your tonsils") to XtraHot ("Like tackling a fiery dragon"). In a retail stroke of genius, and in response to die-hard fans who couldn't get enough of the sauce, in 2016, the brand began offering their PERi-PERi sauce in supermarkets throughout the globe.
With 42 locations in the US, concentrated (however unfortunate for the rest of us), in Illinois, DC, Virginia, and Maryland, it's probably not a stretch to expect to see more Nando's pop up in the future. In a sea of chicken-focused QSRs, what makes Nando's so popular, especially with Gen Z?
Nando's embraces digital technology—and not only for the reasons you'd expect.
Yes, of course there is Nando's app and of course, you can order takeaway, but Nando's embraced technology for another reason beyond just sales: employee satisfaction.
The restaurant found that disparate forms of communication and technology were taking a toll on employee productivity and impacting the customer experience. They also needed a more modern way to interact with their younger, digital-native Gen Z employees, which meant going mobile.
Working with a product design company, Nando's created a company-wide mobile app to help with issues like scheduling, communication, and overall employee satisfaction and morale. Employees can communicate with one another regardless of location, and features like emojis make the app more familiar and user-friendly. The app was a huge success, as 87% of Nando's 17,595 workers in the U.K. use it, and 77% of them use it weekly.
Takeaway: Nando's leveraged technology not just to increase sales, but to increase employee satisfaction. Actions like this pay off at the order counter and beyond.
Nando's stays current while being a good neighbor.
Among Gen Z and music, you can't get much cooler than Chance the Rapper. So when Nando's had Grammy-winning performer and Chicago native Chance The Rapper greet fans at the opening of their most recent (it was their 12th) Chicago location, it pretty much cemented the brand as relevant and fun.
It wasn't just the rap factor though. The restaurant's opening coincided with the first day of class for Chicago public schools. As the musician manned the grills and served the PERi-PERi chicken to lucky fans, he spoke about two topics close to his heart: the importance of the city's schools and nurturing local talent. At the event's culmination, Nando's donated all proceeds from that location's first three opening days to Chance's non-profit, SocialWorks, which works to empower Chicago's youth.
At its six Washington, DC locations, Nando's will mark Inauguration Day 2021 by donating 50% of their net proceeds to DC Central Kitchen, in an effort to help break the cycle of hunger in our nation's capital. The restaurant will promote the day and what it means to them: "On January 20, Inauguration Day, Nando's will be what it always has been: A place for everyone to enjoy and share delicious PERi-PERi chicken, no matter the circumstances," with the hashtag #EveryoneIsWelcome and a downloadable poster to print and share.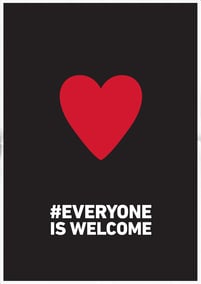 Takeaway: Nando's seamlessly pairs commerce (opening a new location) with philanthropy (as of 2017, the QSR had donated more than $225,000 to public schools and local non-profit organizations, all through opening-week sales), and they have done so authentically and logically with a celebrity that Gen Z can't get enough of.
Nando's brand is authentic and stays true to who they are.
Whether you're in Botswana, Qatar, the US or Australia, the bright colors and custom typeface (it was inspired by the tradition of sign writing in Southern Africa) make it easy to spot a Nando's. The brand updated their identity recently (including their famous cockerel, Barci) along with their site, typeface and official color palette.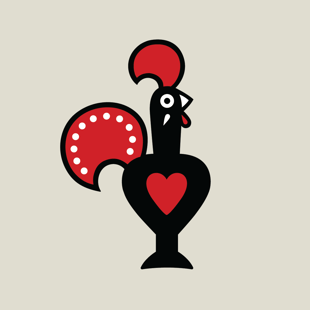 To land on their newest signature 'PERi-Red,' they took a bucket of African Bird's Eye Chillies to an expert colorist to get to the precise color. But along with the vibrant red, black, and neon pops of South African-inspired colors, it's interesting to note that Nando's is also the largest collector of South African contemporary art in the world. The restaurant furnishes all of their eating establishments with original works of art (there are thousands) as constant reminders of where the brand came from.
Designers will likely nerd out on this detail, but here's a final note of the care that Nando's takes in remembering it's heritage: To mark the opening of their first restaurant in Rosettenville in Johannesburg, South Africa, in 1987, all their designs are tilted at an 87-degree angle, across their entire brand. As their site says, "We've come a long way since then, but we've never forgotten our humble beginnings."
Takeaway: Gen Z is known for their love of authenticity. By embracing their heritage while doing good (insisting on custom artwork by local artists, sourcing their own peppers by empowering more than 1,400 farmers in Southern Africa to grow and supply the critical PERi-PERi to the restaurants), Nando's is changing lives one pepper at a time.