To Gen Z, there's no question that brands must continue working towards diversity and inclusion, not only in marketing but also in their products. Here's how some smart retailers are taking inclusivity even further by creating fashion designed for people of all abilities.
For a long time, fashion had a type. Thin, tall, and primarily light-complected. But times are changing. Audiences want to see fashion that's more inclusive. Open most any fashion magazine today, and while you'll still see plenty of Kate Moss-era thin models, you'll also see different races, curvy, short, tall and non-binary representation.
But still, who you probably won't see too much of are models with adaptive or other special needs. As inclusive as fashion has become, with plus-sized and genderqueer models, these other groups haven't gotten a corresponding amount of ink or opportunities on the runway. But as some brands and retailers are showing us, that's also becoming a thing of the past—and we may have Gen Z to thank for that.
As digital-natives and global citizens, Gen Z values inclusivity. As consumers, Zers look to the companies they do business with to reflect the world they see. One that is fluid, authentic and diverse. We see this play out time and again from where Gen Z eats, to the makeup they buy and the influencers they listen to.
Given what socially conscious consumers Gen Z are, in addition to the buying power they hold—an estimated $143 billion—no matter the industry, brands should reflect these characteristics in their offerings and marketing. It's particularly important that brands do so in ways that don't come across as pandering or tokenism. In fact, most Gen Zers (63 percent) prefer to see real people in ads. And when you consider that the global market for clothing geared towards physically disabled people is expected to grow to $400 billion by 2026, clothing retailers and fashion at large should listen to Gen Z shoppers who are asking for more accessible and inclusive products.
Fun, fashionable and functional
When it comes to including overlooked populations in fashion, here are a few brands that are getting inclusivity right:
Aerie. This intimates, apparel, activewear and swim brand is leading the way with body positivity and inclusivity, and has been for quite some time. In 2014, with the launch of their #AerieReal campaign, Aerie was among the first retailers to stop retouching models, airbrushing away stretch marks and skin folds—natural details the industry had typically viewed as skin 'imperfections.' In 2018, the company went a step further when, without any fanfare, they updated their site to feature models with Type 1 diabetes, vitiligo and chronic illness, and models who use wheelchairs, ostomy bags and arm crutches.
Now, in 2020, Aerie is putting their product behind their images thanks to a partnership with Abilitee Adaptive Wear. Together, the two companies are offering fashionable and functional adaptive apparel for people with disabilities and medical needs. For example, soft 'cath clips' come in two color choices (light blue and pink), and there are several color options for non-irritating and flexible arm sleeves that accomodate PICC lines and IVs. The range also includes a camo-green ostomy cover and a bright-pink ostomy bag cover emblazoned with a fun and bold, 'OH SHIT."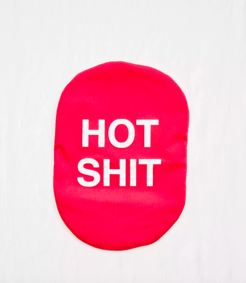 With some of the items already sold out, it appears the thoughtful and inclusive line is a hit and sure to keep existing customers loyal while encouraging new consumers—from all walks of life—to try the brand.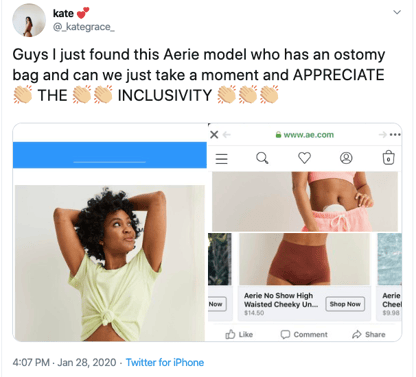 Asos. Just like Aerie, online retailer Asos is no stranger to body positivity. They also said no to airbrushing, instead choosing to show their models as they are in real life, a stance the brand took in 2017 when their online swimwear models' stretch marks were left intact and visible in images.
More recently, Asos expanded their inclusive approach to include adaptive clothing. What started with an email the brand received from British Paralympian Chloe Ball-Hopkins, resulted in a collaboration between the two, as they set out to design a jumpsuit that would work for people, like Chloe, who are in wheelchairs. Chloe, who is also a BBC sports reporter, recounted to Asos how she had once gotten soaked at a music festival, and because it wasn't possible to wheel herself while wearing a poncho or using an umbrella, she was eager to find an outfit that would not only be fun and fashionable and keep her dry, but would also be functional and not get hung up in her wheels.
Together, they designed a tie-dye, waterproof jumpsuit that is super stylish and meant for anyone, but it also has features that differently-abled fashionistas will certainly appreciate: a soft jersey lining, adjustable cuffs at the sleeves and ankles, a waterproof breast pocket (for phones, medicine, anything that needs to stay dry and accessible!) and zippers that join the top and bottom, making the jumpsuit versatile and multi purpose, and easy to put on and take off.
Ball-Hopkins was also featured on the site modeling the jumpsuit. She went on to tell the BBC, "It was just literally those little tiny details that make the difference to people like me. We don't want to have to look like we're just doing practicality, we still want to be able to look fashionable."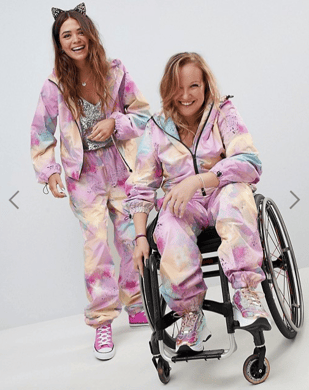 Which brings us to Target. Already a provider of adaptive clothing for children, with their Cat & Jack line that launched in 2017, Target also offers adult adaptive clothing for women among their size-inclusive Universal Thread range.
Just like their kids line, Universal Thread makes getting dressed easier for people with disabilities. The women's clothes are sensory friendly and adaptive, meaning the jeans have flat seams to help reduce uncomfortable pressure points, higher rises in the backs for those in wheelchairs, wider legs and no back pockets. And since jeans can be notoriously stiff at first, the Universal Thread jeans are made from a cotton-blend fabric, power stretched for a flexible fit off the rack.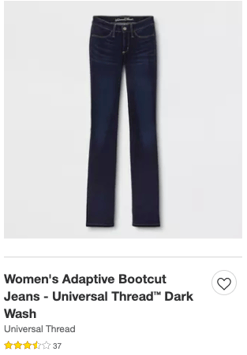 Beyond the basics
Easy to wear doesn't have to mean basic, unfashionable, or sweatpants and sweatshirts. Differently-abled consumers want the same range of clothing choices and looks that their non-disabled friends have. Retailers and designers should be welcoming to all their customers, including those with physical challenges and medical needs. As brands become more socially responsible, let's hope that inclusivity continues to expand to adaptive fashion. Gen Z will notice.