Since the pandemic, Gen Z has added more than 40 minutes for online shopping to their daily schedule. Transparency is the key to keeping their interest.
Transparency is table stakes for Gen Z brands in 2021
Brands take heed. Gen Z has had it. How come? Where to start. The pandemic and the social and emotional sacrifices it's asked Gen Z to make; financial struggles; uncertainty about their futures; systemic racism coming to a head with Black Lives Matter and Stop Asian Hate.
Admittedly, challenges and issues like these are forcing a necessary sea change and Gen Z is here for it. They are saying aloud what many have been only thinking. They're demanding more from the companies they do business with and they're doing so by being thoughtful and selective about who gets their attention and money.
Cancel culture is real among Gen Z
A recent consumer report by PR firm 5WPR, found that in 2020, 45% of Gen Z have boycotted a business due to its stance on a particular issue. The report also stated that, among the 2,000 U.S. citizens aged 16 years and over surveyed, that at 20%, Gen Z comprised the largest percentage of consumers who think the brands they buy from must share their values.
It's been said before, but it bears saying again. Gen Z does their research before 'adding to cart.' And while the pandemic has taken much away from Gen Z, it has returned time that these digitally savvy shoppers can now spend online. And they do. That same report found that on average, consumers are now spending more than half an hour longer per day shopping online than they did before the outbreak of Covid-19. Gen Z? They've added 43 minutes for online shopping per day to their schedules.
For brands who want to gain and keep Gen Z's business, this means complete, total and genuine transparency about values and business practices. Here is one brand that gets transparency right as they aim to get Gen Z's business.

Lucy and Yak are a great example. Who are they?
Known for their colorful and ethical, dungaree-loving, comfort-driven clothing, Lucy & Yak is a Britain-based company that got its start in a van. Co-founders Lucy and Chris traveled together in their van "Yak" throughout the wilds of New Zealand. For a while they supported themselves and their travel by first sewing and selling tobacco pouches then clothing made from used clothing.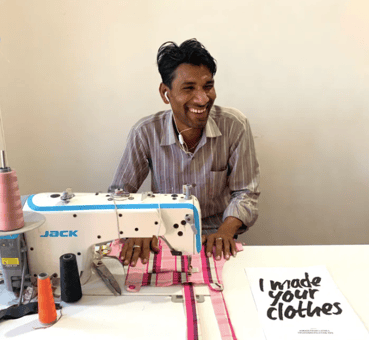 Since their humble beginnings, the company has grown to include an online presence, physical storefront in the UK and sewing factory in India. The company describes itself as an 'ethical business working towards being sustainable.' Their factory in India is renewably run and as a 'Living Wage' employer, Lucy & Yak have pledged to all their employees that the environment they work in, is the best it can be and to always treat all their staff with respect, no matter how big or small their role is. About their employees, the site states, "Whatever country they are in, they will always be looked after." The company ensures that each of their tailors can earn a living wage—one that would allow a single adult to support a family of four. The figure Lucy and Chris arrived at and agreed to pay their tailors is 4x the required minimum wage.
Here's how they get transparency right
Lucy & Yak just don't talk about transparency, they embrace it. As a growing company, their time and attention is spread amongst many responsibilities. Instead of ignoring any foibles their inexperience might generate, the brand humbly embraces the relatable and human aspects of running an international business with operations located across several continents. They acknowledge that they may not get everything perfect but when they say that they are working as hard as they can to get close, you believe it.

No one, least of all Gen Z, likes to be talked at. Lucy & Yak ask for feedback and encourage two-way dialogue with their customers. They have realized that's what successful brands among Gen Z do: they create a conversation and with their customers and they listen and respond to them.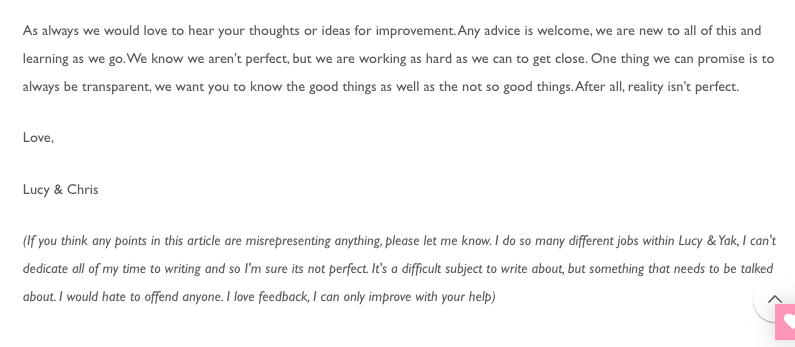 In February, Lucy & Yak announced their first Advisory Panel— a small and diverse group of customers, fans and employee (just one on the Panel so far) to advise the brand on a range of topics, including aspects of the way the company operates, and upcoming products and social campaigns.
Lucy & Yak demonstrate they care about Gen Z
In January 2021, subscribers to the brand's newsletter received an email, addressed: "Dear Lucy & Yak Community." This was right when the British government announced another national lockdown. As one would imagine, this was an unsettling and frustrating way to start the new year.
Within the email, the brand took care to explain what this news meant for their employees and shoppers. They explained how Lucy & Yak were continuing to keep their staff safe and how that might delay processing orders and returns. They thanked their community for their patience and closed the email with a sentiment that was genuine and sincere.

Do the right thing by Gen Z
Take a note from Lucy & Yak. Telling it like it is, being open and authentic, whatever you call it, when engaging with Gen Z, transparency is table stakes. Products and services that resonate with Gen Z may intrigue them, but to get them to fully commit with their time and money, brands must be open not only about how they operate their business and make their products, but how they're making the world a better place for everyone, too.
How UNiDAYS can help
The UNiDAYS platform helps you reach Gen Z where they are (mobile) and with the offers they want for in-store and online discounts, including unique offers you create. Getting started is easy. Just create an account, set up your brand page, post offers and giveaways, and use our built-in reporting tools to optimize your campaigns.

And if you're not ready for that, no problem. You can learn more about this important audience by checking out our Gen Z Marketing Playbook for insights about how your brand can adapt to align with Gen Z values.