Like everything else this past year for Gen Z, spring break is going to look a lot different in 2021. Here are our top predictions for how Gen Z will try to destress and recharge.
Good news for Gen Z college students. The spring semester will likely end earlier. The bad news, there is no spring break 2021.
Covid didn't quite manage to squash this past year's spring break, many Zers got their party on right before restrictions were enforced in the US. Other parts of the globe weren't so lucky with many countries already in lockdown come March and April 2020.
This year, however, many colleges are taking proactive measures and cancelling the standard, week-long holiday to discourage students from traveling. Some colleges have opted for three-day breaks; others have built in five, random 'wellness' or 'reading days.' Spread throughout the spring semester, these school-free days are intended to give students a mental health break.
Not all students see it that way. "Spring break is usually such a great time to destress from the pressures of school," says Evan, a college junior. "This year, instead of a week off, my school is giving us random, 'reading days,' which while I'm appreciative, aren't really the same. It's been a stressful year. It still is. I need more than a day off here and there."
He has a point, when a wellness or reading day falls in the middle of the week, with classes the day before and after, it doesn't provide the mental rest break students would get from consecutive days off. Not ideal when among older Gen Z adults, according to a study by the American Psychological Association, they are reporting the highest levels of stress and hte most likely to report symptoms of depression compared to other generations.
So with little to no spring break, and in desperate need of a Covid distraction, what will students do this semester to recharge and socialize while respecting social distancing? Here are a few predictions about how Gen Z will spend whatever spring break they have in 2021.
Spring break prediction 1: Acting globally but staying locally
Check the student affairs site of most any college and you'll find that service-oriented, alternative spring breaks abroad are on hold this year. Not surprising as the CDC recently mandated that all air passengers, including U.S. citizens coming to the United States must show a negative COVID-19 test result (or documentation of recovery from COVID-19) before boarding a flight in or out of the country.

So instead of introducing Gen Zers to communities abroad while they work to address global social issues, this year, alternative spring break trips will be brief and take place closer to home. In short, weeklong experiences are now over a weekend, no more than an hour away and there are no overnight stays. Students will return to their on-campus housing or apartment each day. You can see Elon University's overview of how they're treating these service trips below.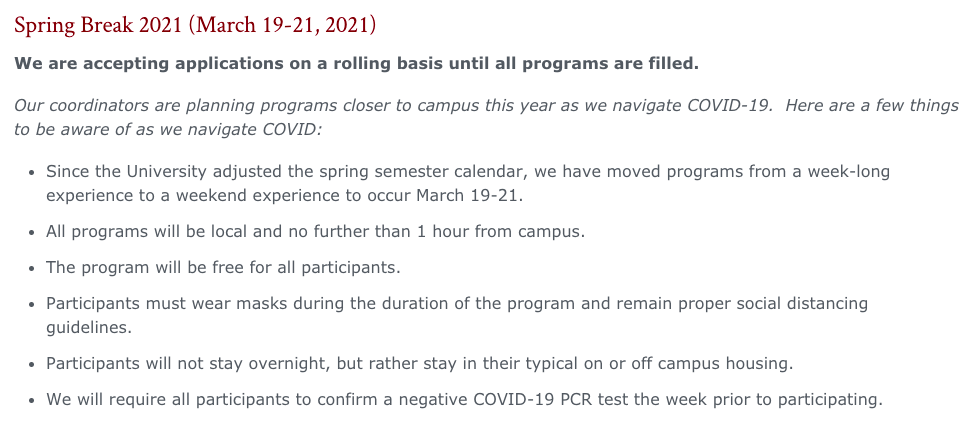 Other universities have reimagined their alternative breaks even further and for better or worse, have taken them virtual. At American University, they've moved all their Alternative Break programs online. The school acknowledges that this opportunity, like "many things in the COVID-19 era, is continuously developing and changing,'' and is not just a really long Zoom call.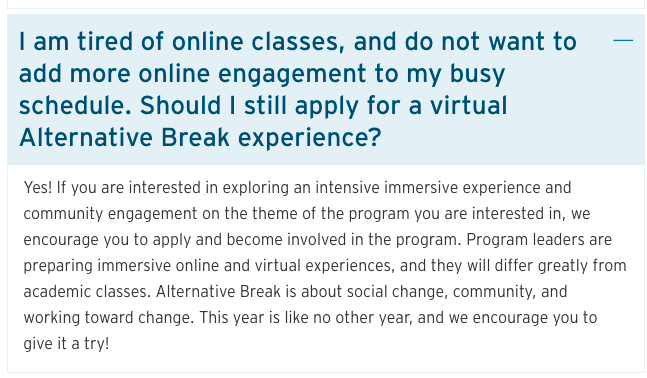 Spring break prediction 2: The beach but different. Much different.
Gen Zers headed to a beach destination should note that some towns have limited group sizes and are enforcing social distancing even between umbrellas. Many also limit the number of chairs at each umbrella (usually just two.)

In Miami, South Beach officials have said they will "aggressively" enforce laws against drinking alcohol on the beach. A recent article stated that for seven weeks, starting in February, police officers will rove the shoreline searching for "illegal activity," including violations of the city's COVID-19 measures on mask use and social distancing. Beyond the bus wraps and storefront signs urging revelers to stop the spread, South Beach marketing officials will take to the skies with aerial reminders. The planes won't be pulling a sign promoting wet t-shirt contests but rather a message to vacation responsibly and follow the rules—or face the consequences.
Spring break prediction 3: Drive destinations.
Given that the entire point of cancelling extended spring breaks is to limit travel, 'drive destinations' will be the best bet for students determined to get away. Depending upon their location, Zers can reach ski resorts, the beach, wilderness or countryside.
"My family had rescheduled our cancelled summer vacation to Italy last year to my spring break this year. But that was also cancelled," says Gen Z college freshman, Haley. "Now, with my spring break cut short, we are going skiing a couple hours away. I can still take classes before my scheduled wellness day and then ski when I'm done."
Spring break prediction 4: Have pod (and test), will travel.
Connecting with friends has some Gen Z students taking their Covid pod on the road and renting AirBnB's or even campsites. In an effort to curb house parties (potential super-spreader events), AirBnB announced this past year that guests under the age of 25 with fewer than three positive reviews won't be able to book entire homes that are close to where they live. They can still however, book private rooms and hotel rooms through Airbnb, regardless of where they live.
For safety-conscious Gen Zers who plan to travel, mid-term exams aren't the only tests they'll take this spring. Many are planning on taking Covid tests before and after any trips. Sara, a college junior, will travel with her partner to meet another friend in a seaside town several hours away. "My girlfriend and I haven't really seen anyone but each other for the past year—except for people at the grocery store—so to visit with a friend in a new city will be indulgent." All three are getting a Covid test three days before they leave and quarantining before and after they return. "It's worth it to me to do these things," says Sara. "I need the connection."
Gen Z needs a time out
Gen Z continues to be under enormous pressure with school and work, and are beginning their transitions to adulthood during an especially tumultuous time. Whether this spring break they stay put, travel with family or their pod, it's time they get a break. They've earned it.
Learn how to harness the power of Gen Z and employ some of the tips, tricks and additional insights in our free download, Gen Z Marketing Playbook.