This academic year will also be like none other. But for brands (and students), that's a good thing.
Brands should major on back-to-school marketing with Gen Z
Talk about a do-over. This year's college freshmen will include two cohorts: one, freshmen in the classic sense, those representing the class of 2021; and 'lock-down freshmen' ― those students who, now as sophomores, get another chance to experience their first year of college.
Excitement is no doubt high for all Gen Zers entering and returning to campus. This past fall, students started the academic year in person but soon found themselves attending virtual classes from home or an apartment, away from friends. It was the college experience no one wanted. Now, as we approach the new school year, things are looking up. Vaccines continue to roll out and most colleges are open for on-campus, classroom instruction.
Brands would be wise to take advantage of this anomaly. As excitement grows and Gen Z prepares for college and university and a new life away from home, now is the time to capture student spend.
"Gen Z are the most hyper-informed and hyper-connected consumers in history, they have an annual estimated global spend power of $200bn, but including their parental influence, an indirect spend of $3 trillion (Bloomberg). Generation Z are the largest group of consumers globally, accounting for over 40% in Europe, the US and BRIC countries (Barclays). What's your student strategy?"

Josh Rathour, UNiDAYS CEO and founder
Gen Z back-to-school spending
Students (and likely parents, too) aren't the only ones celebrating a return to campus. Brands and retailers are looking at record-setting spending this year. According to the NRF, total spending on back to college is expected to reach $71bn up from $67.7bn in 2020.
Digging into the figures a bit deeper, Gen Z college students and their families plan to spend an average of $1,200 on college or university items, an increase of $141 over this past year. Based on NRF's survey findings, more than half of this increase can be attributed to greater spending on electronics (including technology), and dorm furnishings, as illustrated below.
Gen Z back-to-college:
Top three categories by spend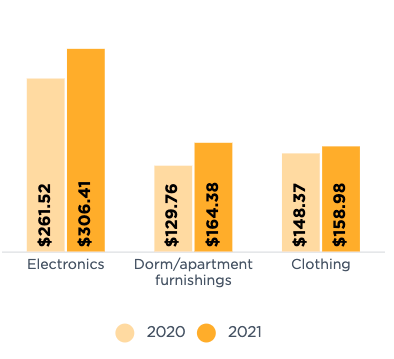 Source: NRF's Annual 2021 Back-to-School/College Survey
Gen Z Gender Breakdown: Who's buying what for back-to-school
When looking at back-to-college consumer spend by gender, men and women are forecasted to spend similarly; however, there are outliers. Men responded they plan on spending quite a bit more than their female peers on collegiate and branded gear, electronics, furnishings, food and personal care items.
Gen Z male college students set to outspend females in nearly all categories

Source: NRF's Annual 2021 Back-to-School/College Survey
"Gen Z expect customised personalised products, services and value, across every device, every platform and with free delivery. Their real-world and digital existence are basically one of the same, they live and breathe social media, instant messaging, video games and live-streaming - often all at the same time. They spend on average 10.6 hours a day online (Adobe). 85% Gen Z research online before purchasing, 92% use a discount code regularly and 82% are loyal to brands who offer codes. They are your core consumer, or they soon will be."

Josh Rathour, CEO and founder UNiDAYS
Top 3 Insights: When, where and how Gen Z will shop for back to college
Brands and retailers still have time to capture the college spend whether it's the students doing the shopping or their parents. As of early July, the NRF found that among respondents who still had half of their shopping to complete, 51 percent said it was because they did not know what they will need yet and 48 percent said they were still waiting for the best deals. Another reason for the procrastination? More than 40 percent of all back-to-school shoppers said they planned to use money from government stimulus checks to purchase items for the upcoming school year.
As for how back-to-school shopping for college will take place, parents that shop for school supplies via mobile device will spend more money (49% will spend more than $750 for college students) than those shopping in person or via desktop.
As for where, the top destinations for college shoppers include online (43 percent), department stores (33 percent), discount stores (30 percent), office supplies stores (29 percent) and college bookstores (28 percent).
Where consumers will shop for back-to-college
Source

: NRF's Annual 2021 Back-to-School/College Survey
Catching the eye of Gen Z and their parents
Whether it's parents buying supplies for their rising freshmen or returning students trying to recapture the year they missed, brands would be wise to join in on the excitement Gen Z is feeling. Keep in mind the do-over freshman year for sophomores and be sure to call attention to them in any campaigns, too. Here are some approaches to consider:
Target the students holding out for the best deals with just that ― exclusive discounts on student loyalty apps and affinity networks like

UNiDAYS

.

As noted earlier, parents spend more when they shop on mobile. Brands should be sure to create and place ads on digital properties that will reach that demographic, particularly for big-ticket items like electronics and furnishings, coincidentally categories with the largest anticipated spend.

A recent UNiDAYS tech report found that one in three students said that they are willing to wait until they find a discount to purchase the technology they want with 92% using a discount code regularly. And 82% of Gen Zers surveyed are loyal to brands who offer codes.


Now that brick-and-mortar shopping is an option and one that Gen Z and their parents are frequenting, ensure physical stores are returned to their vibrant, pre-pandemic selves and staff up. If sales indicate that 'buy online, pick up in store' (BOPIS) or 'click and collect' is popular, don't discontinue it. Include special coupons in BOPIS bags that offer a discount for in-store return visits.


With online being the lead channel for shopping, now's the time to double down on digital. Without a solid social media presence, it's likely Gen Z might not know about your brand. According to Hootsuite

, 85% of Gen Z use social media to learn about new products and 69% of Gen Z will let a retailer's social media posts determine whether they will or won't visit a store. The net? How your brand shows up on social media can determine whether Gen Z will show up in your store.
Creating life-long affinity with Gen Z
Gen Z has had a tough year. Share in their journey to uni by acknowledging the sacrifices they made for the greater good over the past year. Deliver encouragement and offers that help them start their next new normal. Do so, and you may find you have a customer for life.
Wish you had a roadmap for how best to connect your brand with Gen Z? Download The Gen Z Marketing Playbook for the ultimate guide to today's most influential consumers.