A recent UNiDAYS Health and Wellness survey revealed that Gen Z students are worried about the future. By taking an active role in building a better future, brands that give back are building meaningful and lasting connections with Generation Z.
What keeps Gen Z students up at night?
We asked, and Gen Z answered: Day-to-day worries such as money, finances and coursework concern them most. But, zoom out, and you'll see the bigger picture. Outside of personal health, Gen Z sees family, friends and "the future" as top concerns. What does this say for brands trying to relate to this generation?
If you *truly* want to establish an emotional connection with Gen Zers, you'd be wise to pay attention to one particular answer: "the future".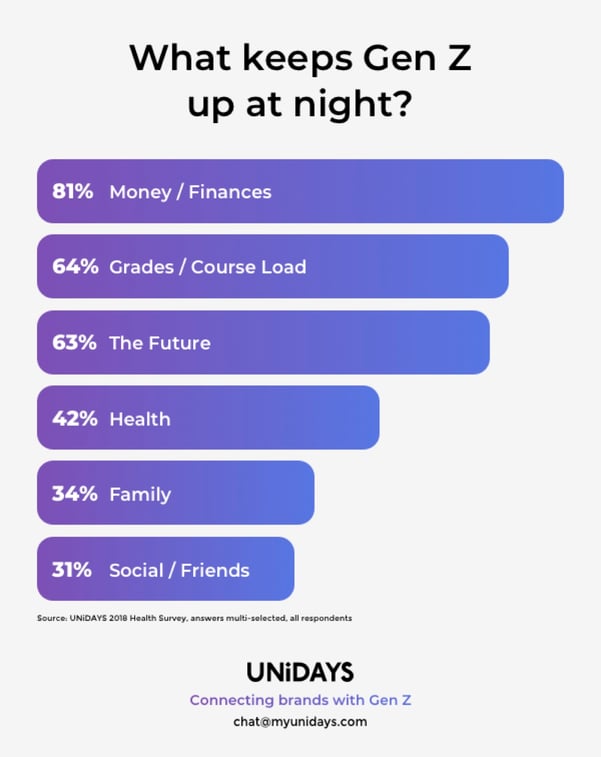 What does the future mean to Gen Z?
But for this generation, what exactly does "the future" mean? According to Gen Z college students, it's shorthand for the political climate, environmental concerns, gender equality, safety in our schools, career opportunities and any other big picture issues that impact the road ahead.
A recent UNiDAYS study on purchasing trends found that a little more than 3 out of 10 college students won't buy a product -- even at the best price -- if they don't agree with a company's stance on a particular issue. And while this may not seem like a huge number, read between the lines and you'll see that roughly 30% of your customer base is paying very close attention to how your brand defines its role in shaping the future. And that number is only likely to grow.
Making good with Gen Z on the future isn't as easy as it sounds. Many corporations aren't comfortable with stealing a page from Patagonia's playbook. Historically, most companies have shied away from tackling issues that are polarizing, lest they risk losing potential customers. But one thing is for sure, if you want to gain affinity, the kind that pulls at Zs' heart strings and can last a lifetime, it is critical that you take a look at how your brand can play a role in Gen Z's future.
How can you appeal to the 42% of Gen Zers who prioritize health? Our free report, "Z: A Generation Redefining Health and Wellness", is your guide to Gen Z's take on healthy living.
The thing is, doing good doesn't have to be stressful or invite politics. You can take small steps that matter in big ways, without alienating the masses. Perhaps your brand has a philanthropic arm or works with a charity -- make sure you tell Gen Z about it. Instead of dropping $50,000 on a digital campaign, launch a scholarship competition to let them know they have your support. Find ways to support healthy living in your community and the health of Gen Z's collective future. And most importantly, don't forget to invite Gen Z to help build that future with you.
When it comes down to it, social and societal wellness are integrally tied to personal wellness for Generation Z. Let's not neglect this very important piece of the greater holistic puzzle.