It's a weird time. Restaurants are selling off their toilet paper and flour and pivoting to takeout. In what's probably their biggest market shift ever, restaurants can teach most any industry a lesson or two about how to adapt when it's most needed—and unexpected.
From how Gen Z socializes, to where they exercise, buy groceries, and countless other aspects of life, there's not much that COVID-19 hasn't impacted. Life today makes the world we all knew in January seem like a distant bacchanal none of us even realized we were having. Zers saw friends in person, got haircuts, bought tickets to music festivals, dated, dined-in at restaurants, attended classes, went to work and traveled because, well—that was normal.
'Normal' looks a lot different these days, as many areas of the world enter their second month of quarantine. And, as a result, many businesses can report the same disruption to their 'normal'.
Pick an industry, pretty much any industry, and COVID-19 is redefining it. Grocery stores take inventory, not just of what's rapidly running out on shelves, but of the number of people coming in and going out. Face masks are commonplace, if not required; six-feet-apart is the new minimum measure of acceptable personal space.
Among the industries hardest hit, restaurants near the top of the list. Bars are closed, and restaurant doors don't open for anyone but those who work there. Quick-service, fast-casual and table-service restaurants have been completely upturned. Contactless-delivery, curb-side pickup and drive-thru are the only options left if you don't feel like cooking yourself—and if restaurants hope to make money.
How Gen Z's favorite restaurants are adapting to COVID-19
As grocery stores run out of basic food items and grocery delivery services become increasingly overwhelmed, we're seeing restaurants try to fill the void by functioning as ad-hoc, online grocery stores. Fast casual restaurants like Panera are pivoting to offering groceries along with most of their usual menu items. In some areas, besides the bagels and sandwiches you'd expect, you can also order fresh produce, milk, yogurt and cheese.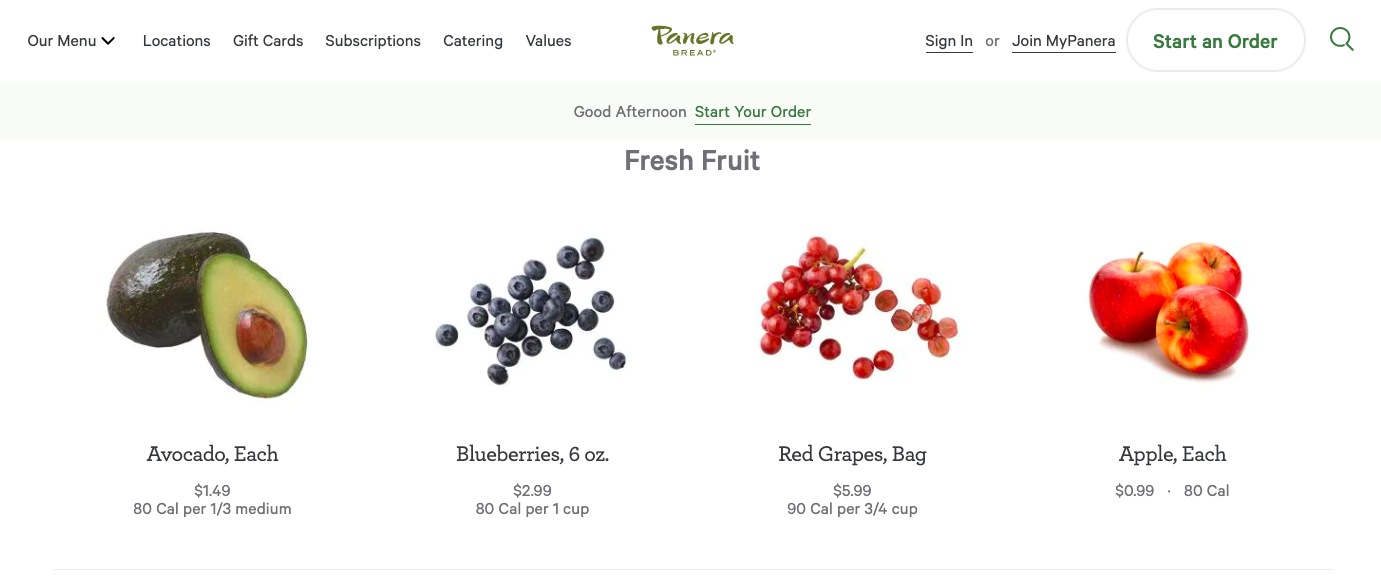 Other restaurants aren't just offering sought-after food items, but pantry staples as well. Like HuddleHouse. Known for their homestyle food, the restaurant has opened "Huddle Market." In some locations, Zers who don't want to venture out to the grocery store for toilet paper and paper towels, can get those items along with Huddle Burgers, bacon, chicken breasts, ketchup, and fresh vegetables, as well as cooked-to-order, meals-to-go.
Famed for their peri-peri chicken (and featured here as a brand Gen Z loves), Nando's is living up to their value of 'standing together.' The brand is providing 'meals for superheroes' by bringing hot catered meals once a day to hospitals near every Nando's in North America. They're also providing a free meal to anyone with a valid hospital ID. And 'Because we're not chicken. We're family,' Nando's allocates 50 free meals per restaurant per day for members of the restaurant industry who have been laid off. And they're providing free meals for their extended 'Nandoca' (what the company calls their Nando's employees) families if their household has been impacted by lay-offs due to the pandemic.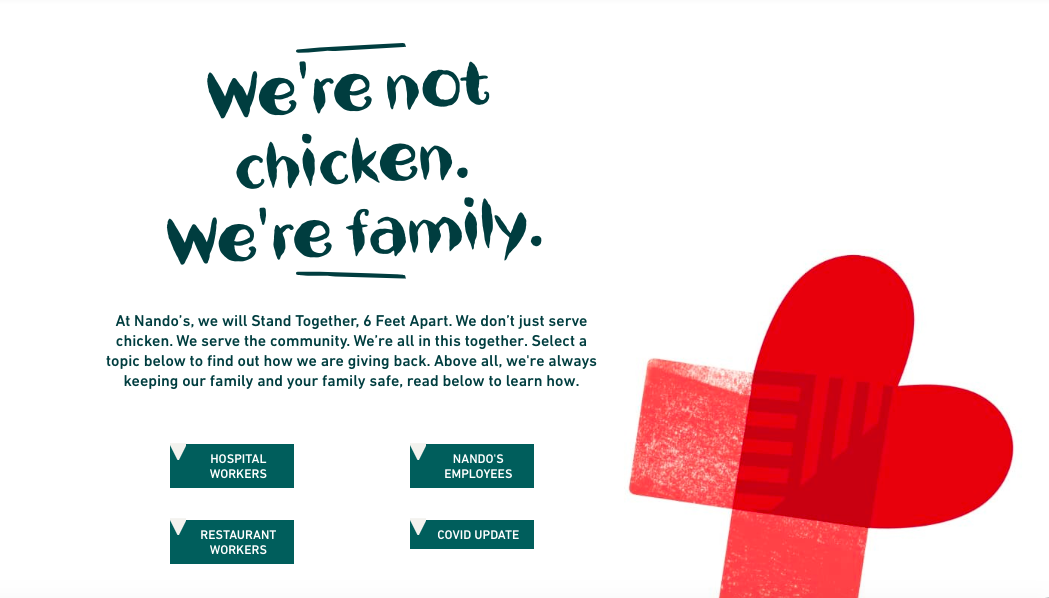 It's kind of ironic. Before this pandemic, we'd never imagine big brands giving away recipes to their so-called 'secret sauce' so customers can make them at home. But that's just what some brands are doing. First, there was Burger King. While the fast-food giant didn't fully give up just how they get that chargrilled taste (and smell), they did provide a picture-driven 'recipe' of what goes into a Whopper and the correct order of assembly.
Even The Walt Disney Company, which usually keeps its Disney World recipes top secret, opened the vault on some beloved Main Street favorites: churro tots and their frozen pineapple treat. Fans of the entertainment park can get access to those recipes and more for a limited time on Disney's app, along with their "Now You're Cooking with Disney Parks," animated stories. (This was also a smart marketing move by Disney, as tons of people are engaging with the brand despite parks being closed.)
They might not have divulged their Big Mac secret-sauce recipe, but fast-food giant McDonald's UK shared with customers how to make a Sausage & Egg McMuffin at home. That's good news for those in the U.K. and Ireland, as the chain has temporarily closed its locations there.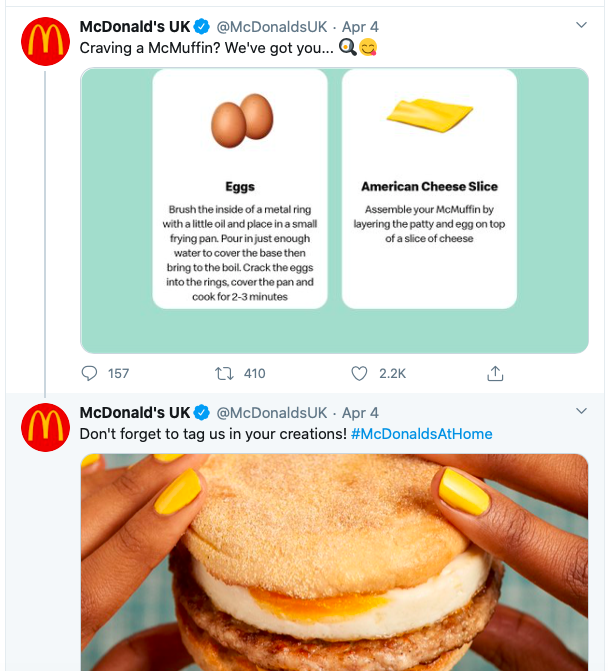 Note the #McDonaldsatHome tag, again encouraging fans to keep the brand top of mind and engaged—a critical move while some locations are closed.
Lessons we can all learn from the restaurant industry
Keep an open mind and look for opportunities. Restaurants were never intended to sell toilet paper, but now they are, and it's proven a scrappy way to tryto stay afloat.
Help others. Like Nando's or West-coast based Pizza Guys, (they've delivered more than 5,300 free pizzas to hospitals), do what you can because as often as you may have heard this, we're all in this together.
Find ways to stay engaged with Gen Z. Take lessons from McDonald's UK and Walt Disney World. As a digital-first generation, Zs will love to hear from and engage with you.
Don't panic (at least try not to panic), instead plan. We will get through this, and when we do, what will business look like for you? If you're not already, start capturing Gen Z's information and data now so you can see what's working and what isn't, as well as identify trends you may otherwise not notice.
If possible, try to set aside time to think about how you will handle a time when the quarantine lifts and you can return operating to somewhere close to pre-COVID 19 days—or not. Have you winnowed your products to a smaller core set? Will you return to a bigger selection, or did you find your sweet spot, however non-voluntary those findings were? Did you collaborate with other brands or verticals? Consider maintaining those relationships or expanding further.
As unpredictable as these times are, staying afloat and engaged with Gen Z can feel like no small feat. But your customers are loyal and are rooting for you. Continue giving them a reason to do so.